With Easter right around the corner, you may be wondering what to get for your plant-based pals, especially if you are raising vegan children. Even if your child is twenty-one years old and lives far away, you still may want to get her some yummy Easter candy. (I'm just saying…) Luckily, I've compiled a list of the top vegan Easter candy that will make you salivate until Sunday.
1. Allergy-Friendly Dark Chocolate Smiling Bunnies
From Amanda's Own Confections, these dark chocolate Easter bunnies aren't just vegan, but also allergy-friendly. Made of only three ingredients— cane sugar, unsweetened chocolate, and cocoa butter (non-dairy)— these cute bunnies contain no gluten, dairy, soy, nuts, or eggs. Furthermore, they are produced in an allergy friendly facility which also makes them safe for those with fish and/or shellfish allergies. If you're a vegan with an allergy or know someone who is, these bunnies can hop happily into anyone's sensitive stomach.
2. Vegan "Milk" Chocolate Easter Eggs
If you're a vegan missing milk chocolate, get ready to gorge yourself on these yummy "milk" chocolate eggs from Sjaak's Organic Chocolates. Though the tub size is out of stock, you can still get 1/2 pound of eggs for $11.95. That's more than enough to put you into a happy sugar coma all Sunday long.
3. Organic Peanut Butter Crunch Egg
Basically a vegan version of the classic Reese's egg. Need I say more?
4. Better-than-White Chocolate Easter Bunnies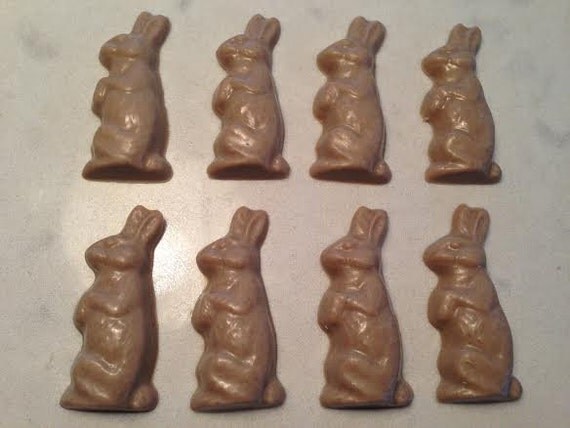 For the white chocolate lover, this bunnies are for you. There's a special place in my heart for white chocolate, but rarely, if ever, do I have the opportunity to indulge in some white chocolate that's also cruelty-free. These chocolates get high marks on the cruelty-free scale because they're not just vegan, but organic and fair-trade too. The Easter bunny would certainly approve.
Truth be told, I don't really like jelly beans, but you can't have a proper Easter without them. While I won't be indulging in any jelly beans this Easter (or next or ever), vegan jelly bean lovers will be happy to know their prayers have been answered. These vegan jelly beans aren't just gelatin free, but also are free of beeswax, insect-derived "confectioner's glaze," or any other animal-based products commonly found in jelly beans.
You may notice that this list seems incomplete. Where, oh where, you wonder, are the vegan Peeps? Though I scoured the internet, I was unable to find an active seller of vegan Peeps. I did stumble on a recipe or two for the ambitious grassmunchers, but I did not dare attempt a recipe that needed a candy thermometer. If you are, let me know how they turn out! And can anyone, and I seriously mean anyone, hook a girl up with some vegan peeps?